Athens and a Wide Spectrum of Business Activities
Athens is a wonderful city to spend your holidays, but it is also a hub of business and commerce. Many businessmen travel to Athens, so as to attend meetings and conferences, exhibitions and other business activities. They need a hotel that provides them with exceptional accessibility to all their points of interest throughout the city. In addition, they need a hotel that allows them to combine business with leisure in an enchanting setting. This is why most businessmen prefer Poseidon Hotel!


There are various places where business meetings and events can be held in Athens. Metropolitan Expo is a famous Exhibition Centre that attracts the interest of businessmen everywhere around the world. Zappeion Megaro is an imposing building of historic value in the center of Athens, with facilities that allow conferences to take place. The Cultural Centre of the Foundation of the Hellenic World is an innovative place for business conferences and exhibitions in the heart of Athens. M.E.C. Mediterranean Exhibition Center in Paiania is another option for business people of the world to meet. Eugenides Foundation is a great place for educational and science conferences, located close to Poseidon Hotel. The same proximity is offered to the Exhibition Center of Elliniko.

These are just few of the options for business society in Athens. Of course, in Poseidon Hotel we boast great facilities for holding conferences and meetings. We combine our years of experience along with modern equipment and all the conference services that are appreciated by businessmen. So, if you are searching for a hotel that allows you to connect to all the major hubs of business in Athens and enables you to organize a modern meeting or conference in style and elegance, you should look no further!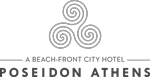 72 Posidonos Avenue
17562 Paleo Faliro
Athens / Greece
Tel.: +30 210 98 72 000
Fax: +30 210 98 29 217
E-mail:
info@poseidonhotel.com.gr
ΜΗΤΕ: 0261Κ013Α0051000