Dear friends,

We would like to inform you that Poseidon Athens Hotel will open again on 1st of June.

With focus on our staff's and our guests' safety and based on the new hygiene protocols, we have already started all the processes in our hotel as well as in the whole area of our beach so that we will be prepared to welcome you back with the smile and the professionalism that characterizes us all these years.

Having as a basic principle the high sense of responsibility and always based on the proper cleaning of all our infrastructures, we create an environment that, despite the new reality, will constitute the ideal place of relaxation and rest for all of our guests, enjoying the services by our well-trained staff.

Situated at a landmark location, in front of the Athenian Reviera we are looking forward to welcoming you back in one of our fully renovated rooms, fulfilling your highest expectations against the backdrop of the unique sunset of Athens.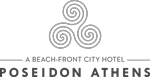 72 Posidonos Avenue
17562 Paleo Faliro
Athens / Greece
Tel.: +30 210 98 72 000
Fax: +30 210 98 29 217
E-mail:
info@poseidonhotel.com.gr
ΜΗΤΕ: 0261Κ013Α0051000