Privacy policy and use of cookies

Dear guests,
during your visit at the pages of www.poseidonhotel.com.gr and to assure our ability to contact you and inform you about new products, you may be prompted to register your personal information (name, occupation, email address, date of birth etc.).
Any personal data is requested solely to ensure the operation of the service and cannot be used by anyone, without complying with the provisions of Law. 2472/97 regarding the protection of processing personal data, as in force each time.

What are cookies?
Cookies are pieces of information, which in the form of very small text, usually consisting of letters and numbers, are stored in the browser you use (Chrome, Mozilla Firefox, Internet Explorer, etc.), helping the efficient operation of our site.
There are 4 different types of cookies:

Functionality Cookies: which allow basic functions of the site, like adding products to cart and storage products in the wishlist.
Preferences Cookies: which "memorize" your preferences during your browsing, so we can recommend you the right products or services based on your needs.
Advertising Cookies: which show you ads related to your interests, so as not to bother you with spam.
Cookies Analytics: which allow us to evaluate the effectiveness of the various functions of our site, so as to continuously improve the experience we offer you.

Why do we use cookies?
Our primary goal is to continually upgrade the navigation experience of visitors to our site. To achieve this and to meet your every need, we use data which relate exclusively to your preferences during your browsing.
Cookies, facilitate the website to remember information about your visit, such as your preferred language and other settings.
This can facilitate your next visit and make the site more useful for you.
Cookies are important as without them, the use of the web would be a much more complex experience.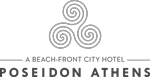 72 Posidonos Avenue
17562 Paleo Faliro
Athens / Greece
Tel.: +30 210 98 72 000
Fax: +30 210 98 29 217
E-mail:
info@poseidonhotel.com.gr
ΜΗΤΕ: 0261Κ013Α0051000