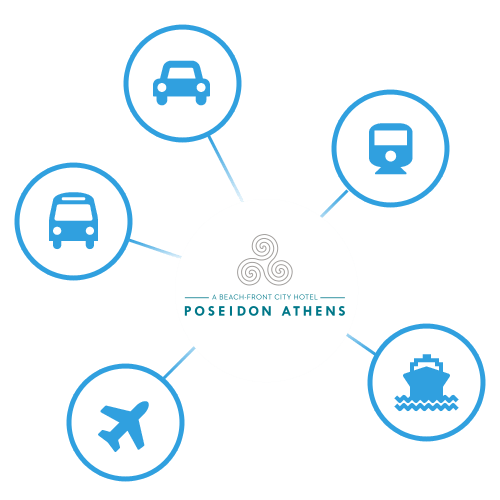 Poseidon Athens Hotel is wonderfully located in the area of Palaio Faliron, along the coastline of Southern Athens and Poseidonos Avenue, with a magical view to the Argosaronic Gulf and the endless blue horizon. There is superb connectivity from the hotel to
all the major sights, attractions and points of interest
in Athens via public means of transportation. Just moments away, you can board on the Tram that leads to the city center and visit Acropolis, Syntagma Square and the National Archaeological Museum. Following a different route, the Tram will take you to Piraeus port and allow you to stroll up and down one of the most enchanting places in Athens. The Tram also takes you to Glyfada for a swim and shopping spree or just for a cup of coffee, overlooking the yachts and the boats that sail away.
Whatever you choose to do, wherever you choose to go, public transportation is swift and practical to use from the hotel. At the same time, the location of our hotel is such that does not involve the hustle and bustle of the city center. Instead, you may relax at your balcony and gaze at the infinite blue of the skies and the sea, as the sun gets mirrored on the waves of Argosaronic Gulf.
More than that, if you are looking for accommodation near a hospital and the purpose of your visit is health related, numerous
hospitals, maternity clinics and health centers
are located nearby. If you want a hotel near
sports facilities and courts
, the Poseidon Athens Hotel should be your number one choice. Numerous business activities & centers are located in the southern suburbs, thus a hotel near
business activities
is the key to success of you. The Poseidon Athens Hotel is one that will accommodate your for as long as required. As several transactions may require time, you will need a hotel near
public services and organizations
to facilitate you. At the southern suburbs, we know all about night life! For this reason, all summer
entertainment centers and clubs
are located in the south coastal line. The Poseidon Athens Hotel is a hotel near entertainment, clubs, restaurants, and anything else related with fun.
Location is everything, especially when every moment of your stay should be cherished and appreciated. This is why Poseidon Athens Hotel provides the absolute site for exploring Athens and its uniqueness!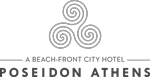 72 Posidonos Avenue
17562 Paleo Faliro
Athens / Greece
Tel.: +30 210 98 72 000
Fax: +30 210 98 29 217
E-mail:
info@poseidonhotel.com.gr
ΜΗΤΕ: 0261Κ013Α0051000