COVID-19 health and safety measures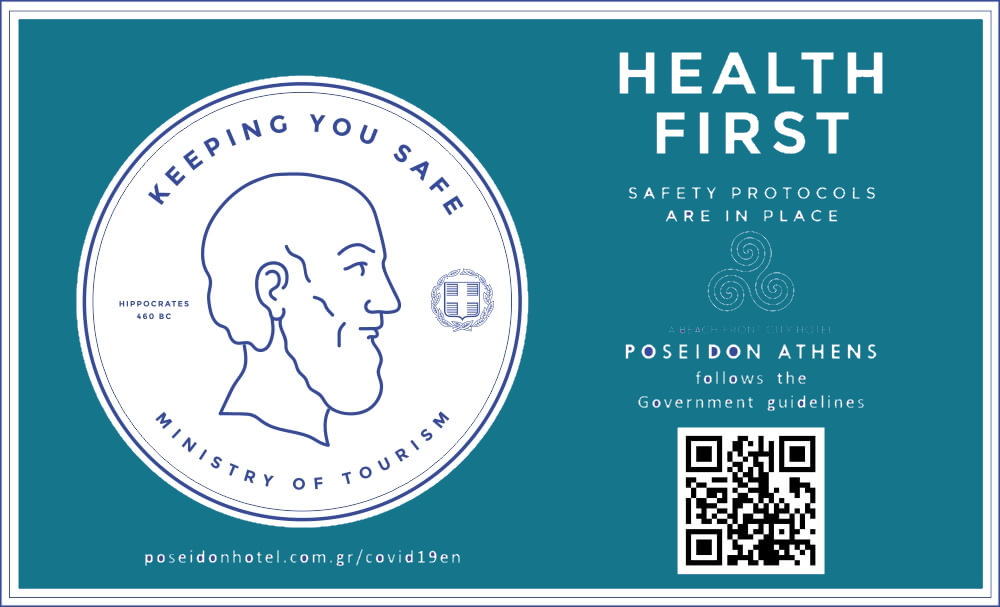 stay safe stay @ Poseidon Athens
Poseidon Athens ensures full compliance with the operating standards of the National Public Health Organization.
We have reinforced our hygiene and safety measures and procedures in full accordance with the protocols established by the Greek Government, thus making your stay safe and carefree.
The health and safety measures we are implementing include:
Guest's experience
•
All guests use hand sanitizer upon arrival.
•
Antiseptics are available at the reception desk and in all common areas, restaurants, bars etc.
•
Temperature is checked upon arrival and at the entrance of the food & beverage departments.
•
Social distancing of at least 2 meters is ensured within the hotel. Furniture is arranged to ensure a safe social distance. For this reason, special markings have been placed in all shared areas.
•
Check-in time: 15:00 & check-out: 11:00 ensuring sufficient time to properly sanitize the rooms.
•
Key cards disinfected upon arrival.
•
Contactless food and beverage order using our new "Scan & Order" service for online menus.
•
Luggage trolley disinfected.
•
Housekeeping disinfects the rooms taking special care of sensitive positive (switches, handles, taps, mini bar, etc.).
•
Meeting places and receptions will allow guests to distance themselves in all meetings and event halls.
•
Doctor directly available upon request for medical services.
•
A complete medical kit that has been created according to the Instructions of the Greek Government is available at the hotel reception. The kit contains disinfectant wipes, face / eye masks, face shield, gloves, protective apron, full-length long-sleeved tracksuit and biological hazard waste bag.
Common areas
•
All surfaces (indoor and outdoor) are properly and frequently cleaned and disinfected.
•
Pool
operation follows the new COVID-19 protocols. Pool sunbeds are fully disinfected before use and towels are provided by our staff.
•
Social distancing is ensured.
•
The maximum swimming pool capacity: 19 pax.
•
Operation of the organized beach follows the new COVID-19 protocols. Beach sunbeds are properly and frequently cleaned and disinfected.
•
Umbrellas
distance of 4 meters (axes to axes)
•
Maximum
beach
capacity: 50 pax.
Rooms
•
We apply the highest standards of cleaning and disinfection, strictly following the protocols proposed by the National Public Health Organization and the World Health Organization. We place special emphasis on areas such as the bathroom and on objects and surfaces of frequent contact such as telephone, remote control, handles, switches and safe.
•
No catalogs, magazines, notebooks, pens or decorative pillows in the room. Kettles have also been removed from the room.
•
Daily cleaning of rooms or change of linen, based on the instructions of N.P.H.O., is no longer allowed. However, if you wish this service during your stay, please inform the front desk. Adequate ventilation during the cleaning process of the room, in ensured, as recommended by the instructions of N.P.H.O. (National Public Health Organization of Greece).
•
Mini bars have been emptied.
•
Electronic devices, such as remote controls, are disinfected and wrapped with a disposable cover.
•
Air conditioning systems are controlled and disinfected.
Food & Beverage
•
Our staff ensures that guests maintain a safe social distance when they are on site to dine or enjoy a cocktail.
•
Fresh air at all times in the lobby at restaurant areas.
•
According to the instructions of N.P.H.O., the disinfection in the areas of restaurants and bars has increased throughout the day.
•
Furniture is disinfected on regular basis.
•
The distance between the tables has been modified based on the new health standards of N.P.H.O.
•
Breakfast is served by our staff, wearing disposable gloves and face masks or face shields.
•
The side dishes of the cocktails will be served in sealed packages.
•
Digital menus with QR code technology are available. The printed menus are posted at the entrance of the Restaurant/Bar and will only be available upon request.
•
During the dining service in the room, staff is not allowed to enter the room.
•
Trays and trolleys are disinfected.
•
The use of linen in all our restaurant and dining areas is avoided. Instead, we use sous-plat, napkins and salt and pepper packs are provided instead.
•
All products are approved for use and are effective against viruses, bacteria and other germs.
Staff
•
A work group has been formed to collect and evaluate daily information regarding the COVID-19 latest updates.
•
We have extensively trained our personnel regarding protection measures, as well as hygiene and cleaning procedures.
•
Disinfection procedure is applied in all areas, paying particular attention to staff entrance, restaurant and administration offices.
•
Printed health and safety reminders have been placed in critical hotel areas to help consolidate the "stay safe" message.
•
All employees have been given clear instructions on the immediate actions to be undertaken regarding COVID-19 case.
•
Employees' temperature checked on daily basis.
Vendors' Health Protocol
•
We ensure that our vendors fully comply with our strict hygiene and safety protocols.
•
All the supply chain is incompliance with the updated instructions of N.P.H.O.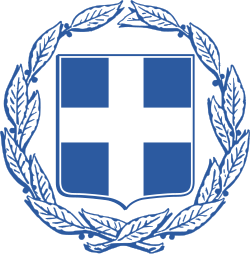 Health Protocols for Tourism Businesses
MINISTRY OF TOURISM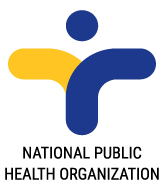 Novel Coronavirus COVID-19 Advice for travellers
NATIONAL PUBLIC HEALTH ORGANIZATION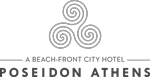 72 Posidonos Avenue
17562 Paleo Faliro
Athens / Greece
Tel.: +30 210 98 72 000
Fax: +30 210 98 29 217
E-mail:
info@poseidonhotel.com.gr
ΜΗΤΕ: 0261Κ013Α0051000