When the idyllic atmosphere with the best views of the Saronic Gulf meets the gastro-creations of the chef compose the ideal place to spend the last hours of 2016 and early 2017.
Saturday 31/12/16 21:00 | 55€ per person
Welcome drink: Kir Royal
Appetizers' variety for your welcome
Blinis with green olive mousse, poached shrimps and lime zest
Crostini with maple syrup, brie cheese and pear
Fresh mozzarella with cherry tomatoes and basil pesto
Roasted plums wrapped with bacon
SOUP
Pumpkin veloute soup with chestnut and crispy bacon together with yogurt chive quenelle
SALADS
Pandaisia of New Year's Eve proposals
Beetroot with julienne green apple, walnuts, manouri cheese and myrtle sauce
Rocket with baby spinach, mushrooms, pine seeds and chestnuts sprinkled with halloumi flakes and hazelnut vinaigrette
Quinoa with orange filet, raisins, cranberries, pistachio and lemon-honey dressing
Waldorf salad with julienne celeriac, carrot and mayonnaise flavored with apple vinegar
French salad with pomegranate pearls, diced pineapple served with caramelized balsamic dressing
Traditional Greek salad with kritamo and wild caper with extra virgin olive oil
COLD SELECTIONS
Variety of Greek and International cheeses with dried fruits and bread sticks
Shrimps flavored with estragon together with velvet Bloody Mary sauce
MAIN DISHES PROPOSALS
Paupiettes of sole with spinach, spring onion and fennel served with champagne sauce
Turkey roll filled with Metsovou smoked cheese, chestnuts and plums served with multicolored peppers sauce flavored with Grand Marnier
Pork medallion cooked in beer with thyme honey and Dijon mustard covered by pistachios crust
Beef filet in Vinsanto wine sauce served with porcinis marinated in brandy
Lamb shank slow cooked in oven served with vegetables in mint-lemon grass sauce
SIDE DISHES
Red saffron risotto with parmesan-reggiano cream and crispy prosciutto chips
Portobello mushrooms filled with grilled vegetables marinated in vinegar-honey and goat cheese
Tortellini with cherry tomatoes confit, gorgonzola cream, walnuts and truffle oil
Roasted potatoes noisette with honey, orange and fresh thyme
Caramelized leek tart with echalote, Greek gruyere and smoked bacon
CARVING
Maple syrup glazed pork with red apple sauce and Dijon mustard
DESSERTS
New Year's Eve desserts and cakes
Serrano cake with white chocolate leaves flavored with rum
Praline tart with passion fruits cream
Sacher Torte
Pistachio dacquoise with Madagascar vanilla and milk based caramel cream flavored with orange and cardamon
Kourabiedes, Melomakarona, Vasilopita
Unlimited consumption of beverage package: white wine, red wine, local beers, soft drinks, mineral water.

Download PDF

After New Years Eve, relax in the renewed Poseidon Hall, enjoying the most lavish buffet.

Sunday 01/01/2017 07:00-12:00 | 15€ per person
Kir Royal for welcome
Selection of hot beverages (Tea - Coffee - Chocolate)
Orange, grape fruit, sour cherry juice
Variety of bakery, cereals and freshly baked croissants
Cold Buffet
Smoked Salmon with caper, cornichon and sauce tartar
Spinach-rocket salad with pomegranate pearls, walnuts and honey-vinaigrette sauce
Caprese salad
Greek salad with fresh extra virgin olive oil and Cretan barley bites
Assorted Greek and International cheeses
Rich variety of cold cuts
Plain Greek yogurt and yogurt with strawberry taste
Healthy corner
Assorted dried fruits, nuts, thyme honey, tahini from Macedonia
Dried barley bites with tomato, mizithra cheese, oregano and extra virgin olive oil
Freshly cut vegetables sticks, olives "kalamon"
Selection of low fat yogurts, seasonal fruits
Hot Buffet
Omelet of your choice prepared by our chef
Pancakes prepared by our chef assorted with maple syrup
Fried, boiled, scrambled eggs
Traditional homemade leek pie, cheese pie, spinach pie, chicken pie, bougatsa
Baked Greek country sausages with peppers, crispy bacon
Quiche Lorraine with smoked ham and variety of cheeses
Mushrooms with truffle oil and balsamic vinegar
Baby potatoes with thyme and orange
Fusilli with smoked salmon and parmesan cream
Rice with shrimps flavored with fennel
Mini chicken burger, mini beef burger
Grilled pork fillet with mustard and olive-lemon sauce
Traditional chicken soup with egg and lemon sauce
Traditional homemade Greek desserts
Traditional vasilopita cake
Traditional melomakarona, kourabiedes
Walnut pie with chocolate, revani with mastic
Traditional "chalvas" with pine seeds and almonds
Loukoumades with walnuts and honey
Chocolate cake, carrot cake, lemon cake
Assorted muffins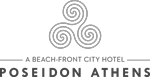 72 Poseidonos Avenue
17562 Paleo Faliro
Athens / Greece
Tel.: +30 210 98 72 000
Fax: +30 210 98 29 217
E-mail:
info@poseidonhotel.com.gr
ΜΗΤΕ: 0261Κ013Α0051000